We speak with lots of healthcare CFOs and revenue cycle executives who constantly deal with multiple competing priority projects. While juggling priorities, a consistent goal is to make sound decisions based on meaningful information.
Many priority projects are chock-full of estimates and assumptions. They would hypothetically increase revenue but only after new systems, training, or processes are implemented successfully — consuming money, time and effort before any pay-back occurs. So, pragmatic CFOs are skeptical to ensure that any new project is grounded in reality.
C&E Acquisition Group takes a realistic approach. We help healthcare executives know the fair market value of their late-stage patient accounts receivable so they can objectively assess how to attain the best return on these assets.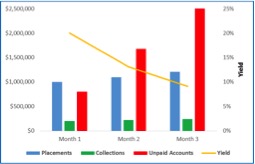 Hospitals have traditionally taken a two-step approach to managing patient accounts. Initial efforts are either handled internally or by an early-out service. Then, at about 120 days, accounts are placed with outside collection agencies.
Because 80% of collections come from accounts placed in the previous 90 days, the pool of AR increases with each placement while liquidations stay relatively flat — and patient account yield continuously decreases.
Our process includes a no-cost, no-obligation valuation of old patient accounts. Although a standard practice in the banking, telecommunications and utilities industries, AR valuation is unfamiliar to many healthcare executives. So, this blog post zeros-in on the questions we're frequently asked before stepping-off together:
What is a "valuation" of patient accounts?
Why should we consider getting a valuation?
What do we get from a valuation?
What are the advantages to getting a valuation?
How do we get a valuation?
Our valuation process will arm you with meaningful information about what these assets should be returning to your organization. Unlike most other options for increasing your revenue, it is not hypothetical. A valuation is an accurate appraisal of your assets with a cash offer to immediately boost your liquidity.
What is a "valuation" of unpaid patient accounts?
A valuation is the process that determines the current market value of your unpaid patient accounts. Patient accounts include insurance deductibles, co-pays, co-insurance, balances-after-insurance and pure self-pay.
A valuation usually encompasses only late-stage patient accounts — that is, accounts for which third-party payments have settled and have been placed with a contingency collection agency for about 120 days.
Late-stage patient accounts have both face value and market value. Face value is easy to calculate: it's the actual dollar amount of the balance due on accounts. Determining market value requires sophisticated analytics, filtration through multiple databases, and an expert assessment of your patient account collection process.
Unlike other audits or assessments, C&E's proprietary valuation has cash value today. You can monetize some or all of your portfolio, if you choose, resulting in immediate cash flow.
Why should we consider getting a valuation of our patient accounts?

As fiduciaries of the organization, hospital executives constantly strive to ensure that all resources are used appropriately and deliver acceptable returns-on-investments to their constituents. Audits are done on all kinds of assets from IV carts to stretchers to prescription drugs and medical supplies. But, many healthcare organizations have millions of dollars in uncollected patient accounts that are not managed like their other assets.
We find the overarching reasons for getting a valuation fall into one of these categories:
Proactive – Use the cash to invest in long-term, strategic projects or services
Reactive – Need the cash to mitigate unforeseen circumstances
Informative – Assess the cash value to benchmark or improve performance
So, if you're planning a major project, feeling a cash crunch, or enhancing your revenue cycle, a valuation will provide meaningful information to help you make sound decisions.
What do we get from a valuation of our patient accounts?

Once we complete our analysis, we'll compile and present a report showing a breakdown of your entire portfolio of patient accounts into various "buckets" relevant to your patient population and financially meaningful to you. Account-level detail is readily available to support our findings, to answer your questions, and to explore options for monetizing your portfolio of unpaid patient accounts.
Sample Elements of a Valuation Report
What are the advantages to getting a valuation of patient accounts?

The primary benefit of a valuation is that it enables well-informed, objective decisions about whether and how to monetize financial assets that have already cost you lots of money but have yielded no return.
Many hospital executives and board members have pre-conceptions of the risks of doing something different about their old patient accounts. A valuation quantifies the reward side of the risk-reward scale so you can have objective discussions that lead to sound decisions based on meaningful information.
Other key benefits of getting a valuation are more options for funding important projects and more flexibility to accelerate your current projects.
For example, we all know that it's best to collect payments from patients early in the revenue cycle. But, the costs of systems, training and expertise to enhance the front-end of your revenue cycle can be quite high. Knowing the market value of your old patient accounts offers alternative ways to pay for the resources needed to strengthen the front-end of your revenue cycle — and consequently reduce patient AR and bad debt going forward.
How do we get a valuation?
There are six steps to getting a no-cost, no-obligation valuation of your patient accounts:
15-minute phone meeting to discuss your situation
Complete a Business Associates Agreement
Send a Datafile of your open patient accounts using parameters we'll provide you
30-minute phone meeting to discuss your patient account collections process
30-minute online/phone meeting to present and discuss our findings
Receive a copy of your Valuation Report
Want to get started?
Email Tim Wilson, Business Development Manager or call Tim directly at 443-371-7894 to schedule your valuation.