Causes & Effects of Swelling Patient Financial Responsibility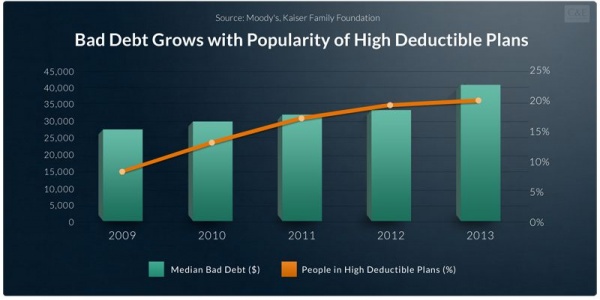 The pace of change in the healthcare industry is accelerating rapidly. Higher expectations by patients for quality, cost, and transparency reflect our consumer-centric economy.
One of the most significant changes impacting healthcare providers is the shift from third-party payers to patient responsibility. According to America's Health Insurance Plans (AHIP), the growth in High Deductible Health Plans (HDHP) is a major contributor to expectations that out-of-pocket payments for insured patients are expected to reach $420 billion in 2015, a 68 percent increase in five years.
According to a Moody's Investor Service report in March of 2014, HDHPs are responsible for an increasing share of patient bad debt expense. Exhibit 1 charts the growth in bad debt and incidence of HDHPs from 2009 through 2013.
Another growing challenge for providers results from health insurers denying claims for members who have not paid their premium for plans bought through healthcare exchanges. Responsibility shifts to patients during lapses in coverage due to delinquent premium payments.
Traditional Revenue Cycle Processes Don't Work
Increased patient responsibility is squeezing providers' revenues and margins. The vast majority of patients are willing to pay what they owe but they also expect to get clear cost estimates up-front and flexible payment options.
Ballooning subscriptions to HDHPs magnify the importance and urgency of verifying patients' eligibility, estimating patients' out-of-pockets costs, and collecting payment at the point-of-service. Providers need to know each patient's responsibility and make every effort to collect payment or arrange a payment plan prior to rendering services.
During HFMA's Virtual Conference in February 2015, Joe Fifer, HFMA President & CEO, recommended that healthcare providers implement a new billing and payment model.
Clearly, it's best to collect payments from patients early in the revenue cycle. Providers are working hard make it easier for patients to pay sooner in the revenue cycle but there are some big hurdles in the way:
Determining patient responsibility from suspect payer information and difficult-to-calculate fee estimates
Assessing a patient's propensity-to-pay to help decide which payment method is likely to provide optimal revenue
Educating each patient on their charges, payments from third parties, and options for meeting their payment responsibility